Seniors lose to Lincolnshire in East v West Midland final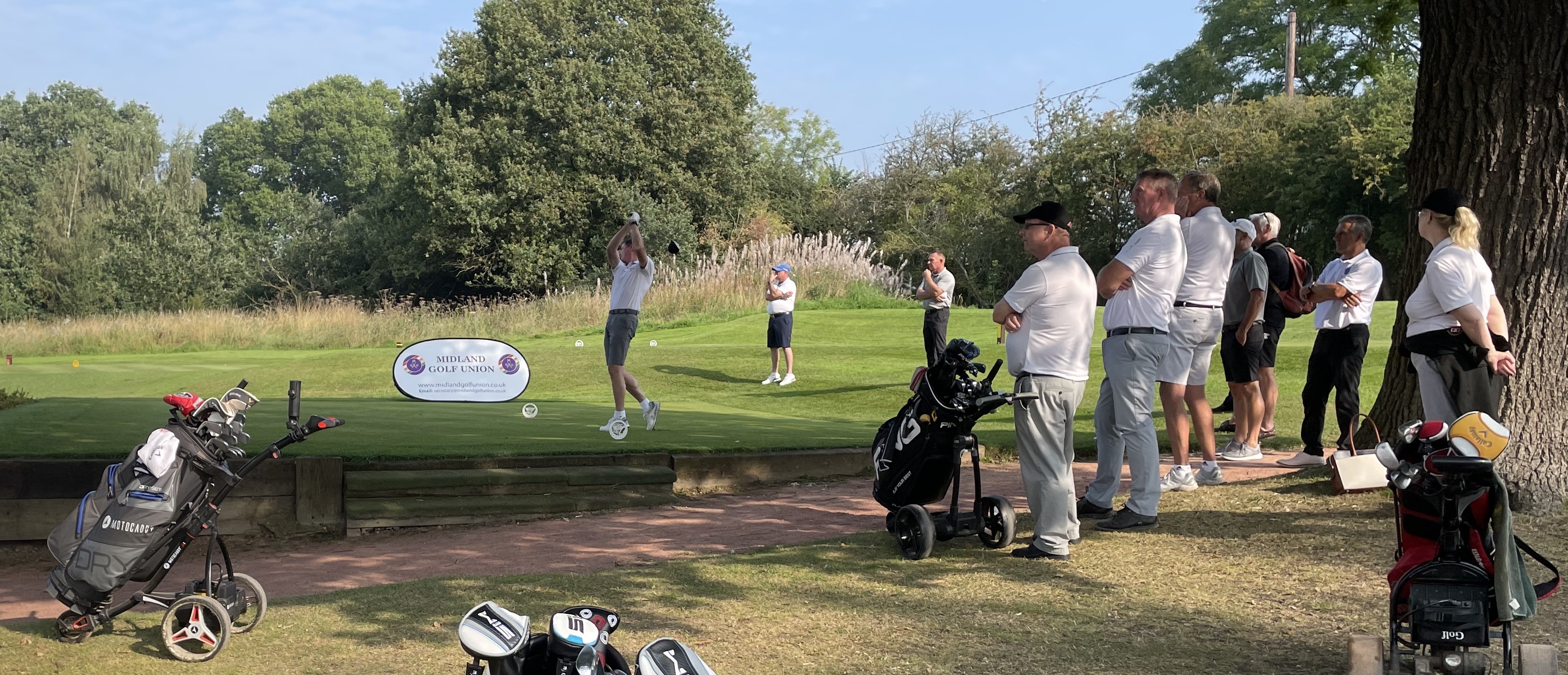 Pete Lupino drives off the first tee at Kedleston Park in the Midland Final 6.9.21
Worcestershire v Lincolnshire Midland Final at Kedleston Park GC on Monday 6th Sept 2021
Winning the West Midland League was always a great achievement from our County Seniors Team. We remained undefeated in all our league matches this year and went into the final full of confidence that we could win the title for the West Region, only achieved once before by Staffordshire.
Kedleston Park GC is an excellent course, a superb choice for a neutral venue and it was in fine condition. The Worcestershire team were well prepared, having had a practice round and staying locally. We knew the Lincolnshire team were very strong, having a few England Internationals in their ranks so it was always going to be a tough match. The morning foursomes proved this to be be the case and after some tense finishes on the 9th green we reached the lunchtime break 4-2 down but still with everything to play for.
The 4 ball betterball matches were keenly fought. In the top match, Paul Wharton (Lincs) had made a special journey to return in time from England duty in Slovakia to play in this match. It proved to be crucial as they defeated one of our best performing partnerships this year in Hill & Macpherson, 4&3. Marshall & Lupino also had stiff opposition from Blow and Fuller, and in a high quality match, full of birdies, they narrowly lost 2&1 on the 17th. Thompson and Green, as usual, combined well, and at 5 under secured a much needed 5&4 win for the team. Shurmer and Henn, a new partnership, battled hard to reach the 17th before going down 3&1. Our final pairs, who've largely remained unbeaten this year of Desmond & Carpenter and Leydon & Smith just couldn't break through against the good solid play of the Lincs pairs and, unfortunately, lost their matches.
Many congratulations must go to Steve Kellett and his Lincolnshire County Seniors team for winning the Midland League Title and for playing the match in such a competitive, yet very sporting manner, which was thoroughly enjoyed by everyone involved. The Worcestershire Seniors gave their all and I'm very proud to have led this very committed team throughout the season and in this final.
Click here for the Match Score Sheet
The hospitality, especially the quality of the catering shown by Kedleston Park GC staff was first class.
I'd like to thank all the supporters from Worcestershire, who attended during the day, namely, Dave Macgillivray (Past President), Grenville Rose (Past President), Ian Rone (2021 President), Paul Newman (Past Worcestershire Seniors Captain and current Midland Seniors Captain) and Stuart (County Secretary) and Debbie Pritchard. Their warm words of encouragement, as well as providing water, etc, were really helpful to all our players throughout the day.
Worcestershire County Golf Ltd fully supported our team brilliantly and I must also thank the MGU for all their efforts in preparing and running this end of season event so smoothly.
The County Senior Team players will now look forward to the 2022 season and I know everyone will be striving to reach this final again.
Bill Thompson
Seniors Captain

The County Seniors Team at Kedleston Park GC on 6th September 2021
LtoR : Dave Marshall (The Worcestershire), Darren Henn (Gaudet Luce), Ian Smith (Worcs G&C), Jim Leydon (Kings Norton), Steve Green (Rose Hill) Mark Carpenter (Worcs G&C), Bill Thompson (Kings Norton, Captain), Duncan Macpherson (Worcs G&CC), Anthony Hill (Moseley), Pete Desmond (Moseley), Phil Shurmer (The Worcestershire), Ian Rone (County President, Droitwich) and Pete Lupino (The Worcestershire)