Large turnout for Boys and Girls Achievement Awards on 5th January 2020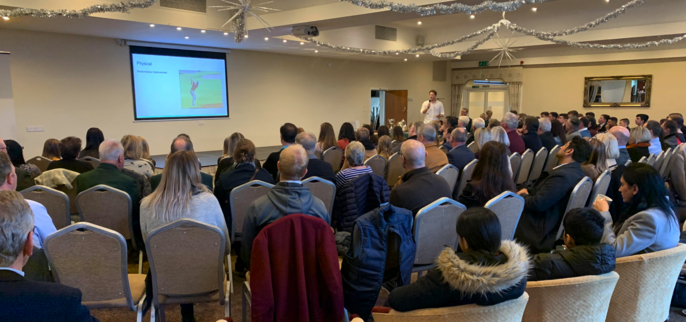 135 County Junior boys, girls, their families and County Officials attended this exciting inaugural event. It began with a very engaging talk from Mr John Chaffe, a body conditioning coach, who emphasised the need to include a fitness programme into every young golfers schedule. He stressed that golfers at every level will significantly improve their performance if they are physically strong, flexible and know how to warm up properly. To give them some ideas, John took a selected group of boys and girls and put them through their paces with a series of key warm up exercises, which they throughly enjoyed and made them understand what they would need to do before any round of golf. (pictured below)
If you wish to contact John Chaffe please visit his website: drivesportsmedicine.com. His email is: john@drivesportsmedicine.com 01905886132 or 07852257470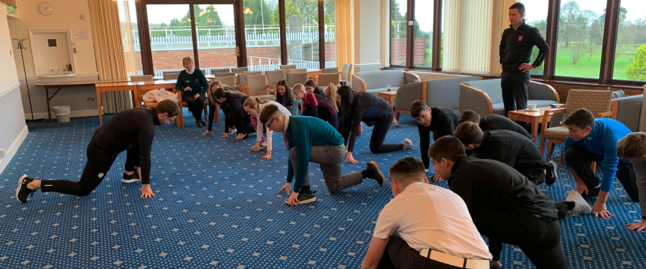 The presentations of individual and team trophies began soon afterwards. This was led by Bill Thompson (County Chairman and Junior Organiser) and Jenny Hartley (Girls Junior Chairperson). The prizes were given to each winner by the respective County Presidents, Mr David McGillivray and Mrs Judy Taylor.
Click here for the full list of prize winners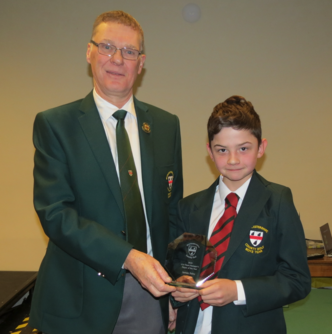 An award voted for on the day by all the players themselves was given to James Ilsley (pictured above) to recognise his progress as one of the best team players and individual performers in 2019. James has also been named the U16 Captain for 2020. Many congratulations James.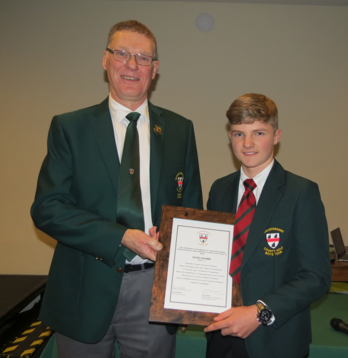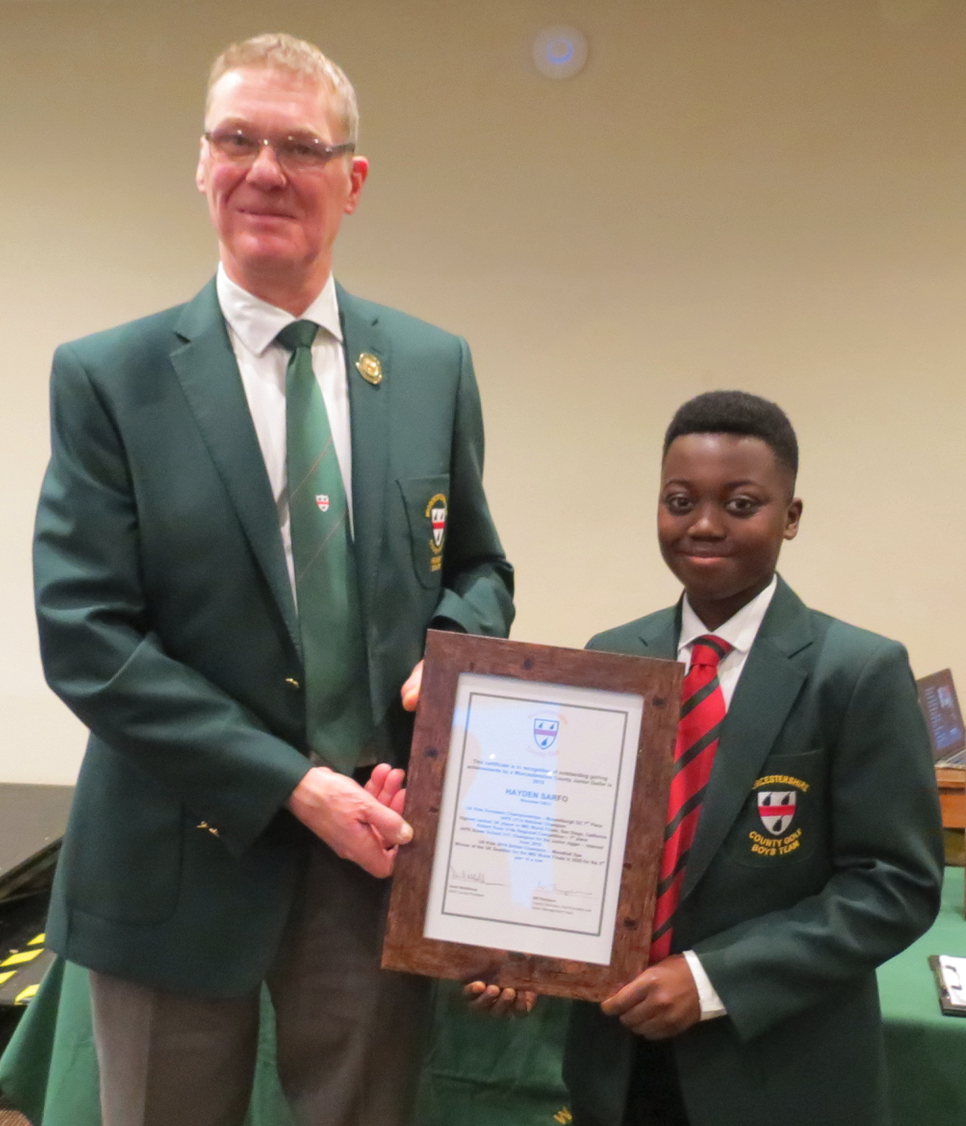 Two boys received outstanding achievement certificates for their exceptional performances in 2019.
14 yr old Hugh Adams (left) achieved the following: Ranked No2 U14 golfer in Europe for 2019 season; Winner of the Douglas Johns Trophy – National U15 Championship; 2nd in the Reid Trophy – EG National U14 Championship; Winner of the Scottish Boys' U14 Championship with a record 10 under par; Worcestershire U14, U16 and U18 Stroke Play Champion; Winner of the Midland Golf Union U14 and U16 Champion of Champions; England U16 team Member.
9 yr old Hayden Sarfo (right) achieved the following: US Kids European Championships – Musselburgh GC 7th Place; IAPS U11s National Champion; Highest ranked UK player in IMG World Finals, San Diego, California; Robert Rock U14s Regional Competition – 1st place; IAPS Stowe School U11 Champion for the Junior Jigger – retained from 2018; US Kids 2019 British Champion – Woodhall Spa; Winner of the UK Qualifier for the IMG World Finals in 2020 for the 3rd year in a row.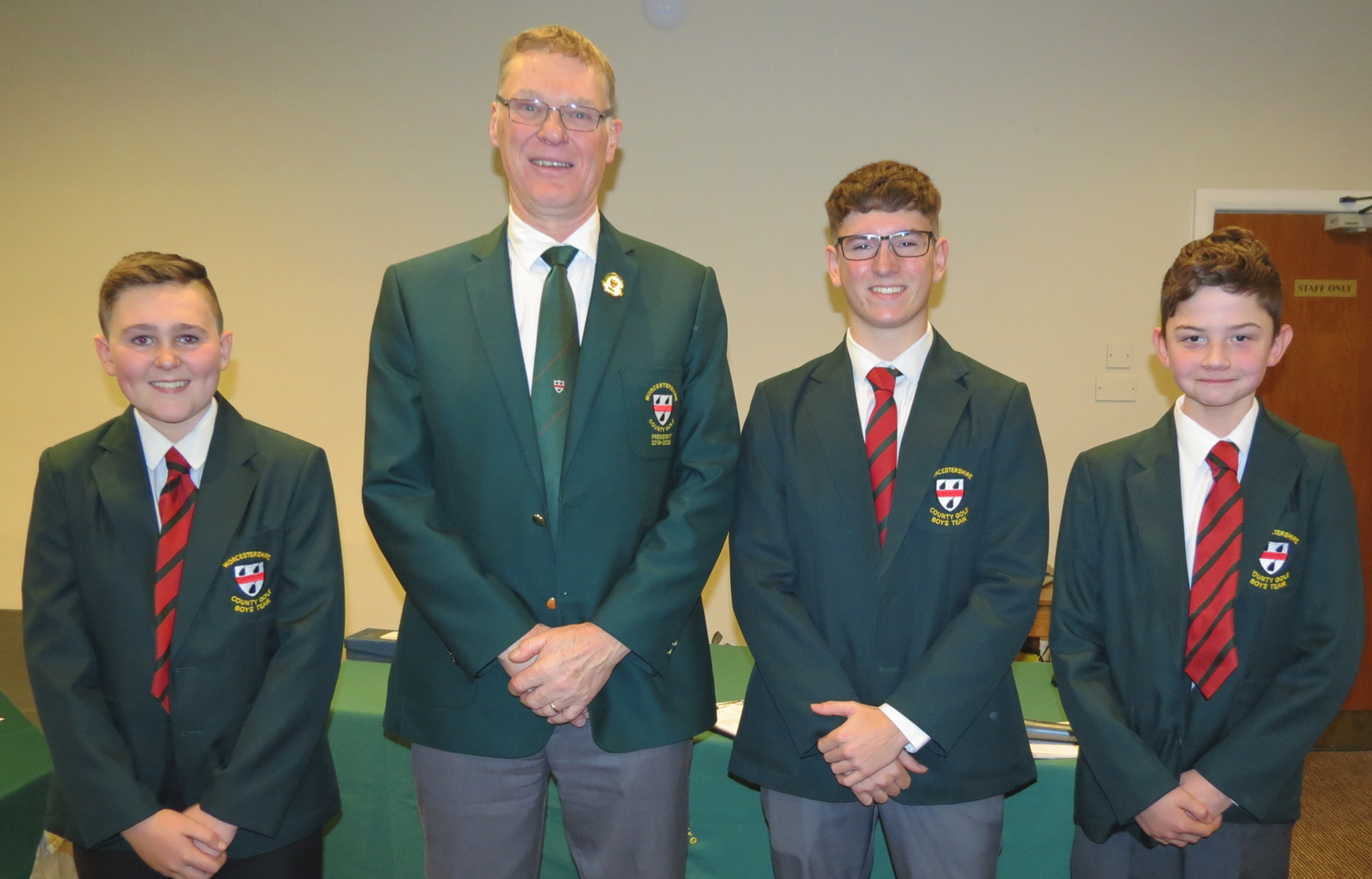 The afternoon was rounded off by announcing the boys' team Captains for 2020. They are ( LtoR) Mark Hewlett (U14), Harrison Leaver (U18) and James Ilsley (U16)
The event overall, proved to be very successful. Harrison Leaver ( U18 Captain) thanked everyone, particularly the County Officials for their tireless work throughout the season in his closing remarks and this was added to by Jenny Hartley and David McGillivray, who both thanked all the parents, volunteers and golf clubs, especially the host venue, Kings Norton, for their continuous support. Delighted parents took many pictures and were full of praise for the level of organisation and quality of work carried out by everyone in both County organisations. This combined event clearly has a firm future and everyone is looking forward to another enjoyable 2020 golfing season.
Bill Thompson
County Chairman and Junior Organiser