Worcestershire County Golf Limited County Card Scheme
Since 2012 the Worcestershire County Card Scheme is available free of charge to all men and boys who are members of any golf club affiliated to the Worcestershire Union of Golf Clubs which participates in the scheme. Players must hold a current CDH number.
There are two types of County Cards, both of which are equally valid:
A credit card sized plastic card, with the holder's name and CDH number printed on the England Golf side, with "Worcestershire County Card" and the WCG Ltd logo printed on the other side. The initial stock of cards was printed with the date 2012-13 and stickers were provided on an annual basis to update these cards. However, newer cards no longer have dates on them and will remain valid until the holder ceases to be a member of a Worcestershire affiliated club.
From August 2020, a new Digital County Card is available via the igCounty App, run by Intelligent Golf. This Digital County Card includes the members name, home club, current handicap and date, as well as the Worcestershire County Golf logo.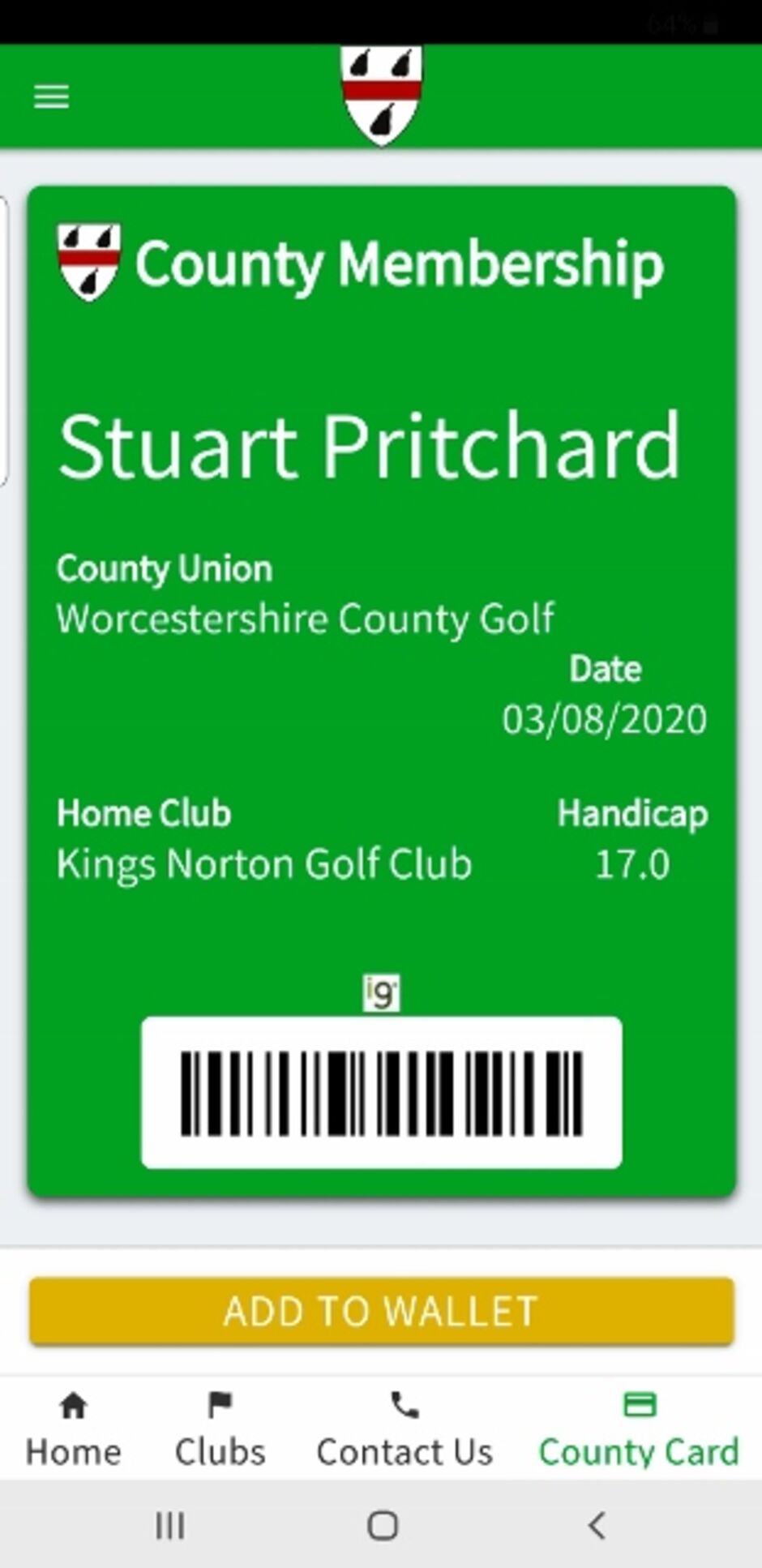 HOW TO DOWNLOAD A DIGITAL COUNTY CARD
Go to your normal app store on your phone.
Search for igCounty App - it is free
Load and Install the App
Enter the County Card part of the menu
Enter your details as requested - every member will need their CDH number
Refresh the screen
County Card should be displayed, including County Logo, members name, current date, home club and handicap, and will be available every time the member subsequently opens the App.
OR you can save the County Card to the "wallet" on your phone
Obviously. you only need to go through the installation process once, and then the card is there forever, provided you remain a member of a Worcestershire affiliated club.
Should any card holder or club have any problems with county cards, they should contact the County Secretary via email secretary@worcestershireamateurgolf.co.uk or by telephone 07463 687901.
For club members who have just joined one of our clubs:
If you have moved between Worcestershire Clubs then your existing plastic Card, CDH number and details are still valid and you can continue to use your existing card. However, you may wish to download a new Digital County Card, which will include your current home club details.
If you are new to the Union then we welcome you to our County by providing you with a free Digital County Card. Your club secretary will have details on how you can download a card, or you can follow the instructions shown above.
We wish all card holders enjoyable days visiting new venues assisted by the Green fee savings which only card holders enjoy.
33 counties now reciprocate, allowing you to visit over 1300 golf clubs
Conditions of Use:
1. Play is normally restricted Monday to Friday (Public holidays are usually excluded). However some clubs do offer a weekend rate.
2. Card Holders must telephone to confirm that it is convenient to play on a particular day before visiting another Club.
3. Card Holders must be current members of participating Worcestershire Clubs and have a CONGU handicap.
4. The Card is not transferable and it must be produced on arrival at the Club being visited. Anyone querying acceptance of either style of County Card should be referred to The County Website for more information.
5. The Card cannot be used in conjunction with a Golf Society, Team or Organised Party unless the Club being visited has given prior agreement.
6. The Scheme Rules may vary slightly in other Counties, please check when booking.