U14 Boys fight back from 2 games down to win 3-2 against Warwickshire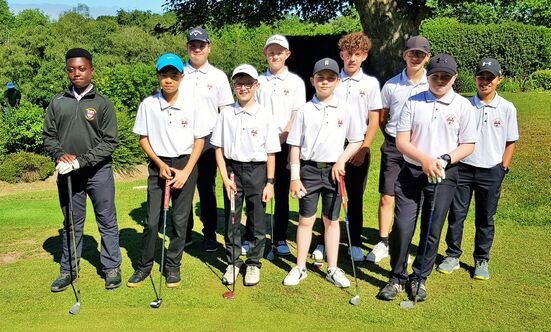 The U14 Boys Team at Halesowen on Sunday 13th June 2021, for their match against Warwickshire.
(Left to right) Hayden Sarfo, Euan Choi, Josh Griffiths, Oliver Badger, Callum Jones, Jake Jeff-Johnston, George Stephens, Teddy Fee (Captain), Harry Evans & Alex Perry.
There were seven members of the U14 team making their inter-county debuts against a strong Warwickshire team. In the lead match, the pairs were evenly matched throughout and a birdie by Worcestershire's George Stephens on the 17th was matched by Warwickshire which kept the match all square. Playing the 18th, Hayden Sarfo narrowly missed his birdie attempt and Warwickshire holed their birdie putt to win the match 1up.
In match two Ollie Badger and Josh Griffiths found it hard going and although they battled very well, their opponents ran out victors by 5&3. So at 2-0 down the remaining 3 pairs of Teddy Fee & Euan Choi, Harry Evans & Alex Perry and Jake Jeff Johnson & Callum Jones needed to do something special if we were going to claim victory, which they successfully achieved! With winning scores of 4&3, 4&3 and 5&4 respectively Worcestershire managed to gain the victory.
Congratulations to all the boys for their effort and attitude both on and off the course and especially to our captain Teddy Fee who said some nice words in his first post - match speech.
Our thanks also go to all the parents for their fantastic support, and to the officials who supported the team on the day who included Mark Hewlett, our starter Colin Day, Stuart and Debbie Pritchard and Bill Thompson.
Our gratitude also goes to Halesowen Golf Club who were outstanding hosts and made us all feel very welcome throughout the day.
Final score : Worcestershire 3 Warwickshire 2.
Click here for Match Score Sheet
Roger Martin
U14 Team Manager