Thompson & Green Retain the Wharrad Jugs
A beautifully presented Hollywood GC hosted this year's County Senior 4BBB on Thursday 4th July.
Some 28 pairs arrived on a hot and sunny day to take on the unusual format of 4BBB medal over 18 holes. With both gross and nett trophies to play for, it was clear that every shot was going to count. The course was in excellent condition, and all the players loved the greens, which were quick and true.
The early groups came in with some excellent scores. The most notable with gross 71's were from Mark Carpenter & Tony Sanders (Worcester G&CC) and from Phil Shurmer & Mark Read (The Worcestershire). There was also a solid 74 gross from Mick O'Donnell & Pete Craddock (Redditch GC).
On the nett front, both Carpenter & Sanders and O'Donnell & Craddock had posted 66's, whilst Shurmer & Read had posted a 67.
These early scores were to prove difficult to beat and it wasn't until the penultimate group that the tried and trusted pair of Bill Thompson (Kings Norton) & Steve Green (Rose Hill) handed in a gross 69 (-3). No-one else could match the Thompson & Green score so they duly took the Wharrad Jugs for best gross on the day - retaining the title they won last year.
The early nett scores were to remain unbeaten, so the Nett title and the Aberdovey Salvers eventually went to the pairing of Mark Carpenter & Tony Sanders (Worcester G&CC) on countback.
With no-one able to win more than one prize, the full, and final prize list was:
Best Gross - Bill Thompson & Steve Green (69)
2nd Gross - Phil Shurmer & Mark Read (71)
Best Nett - Mark Carpenter & Tony Sanders (66) (c/b)
2nd Nett - Mick O'Donnell & Pete Craddock (66) (c/b)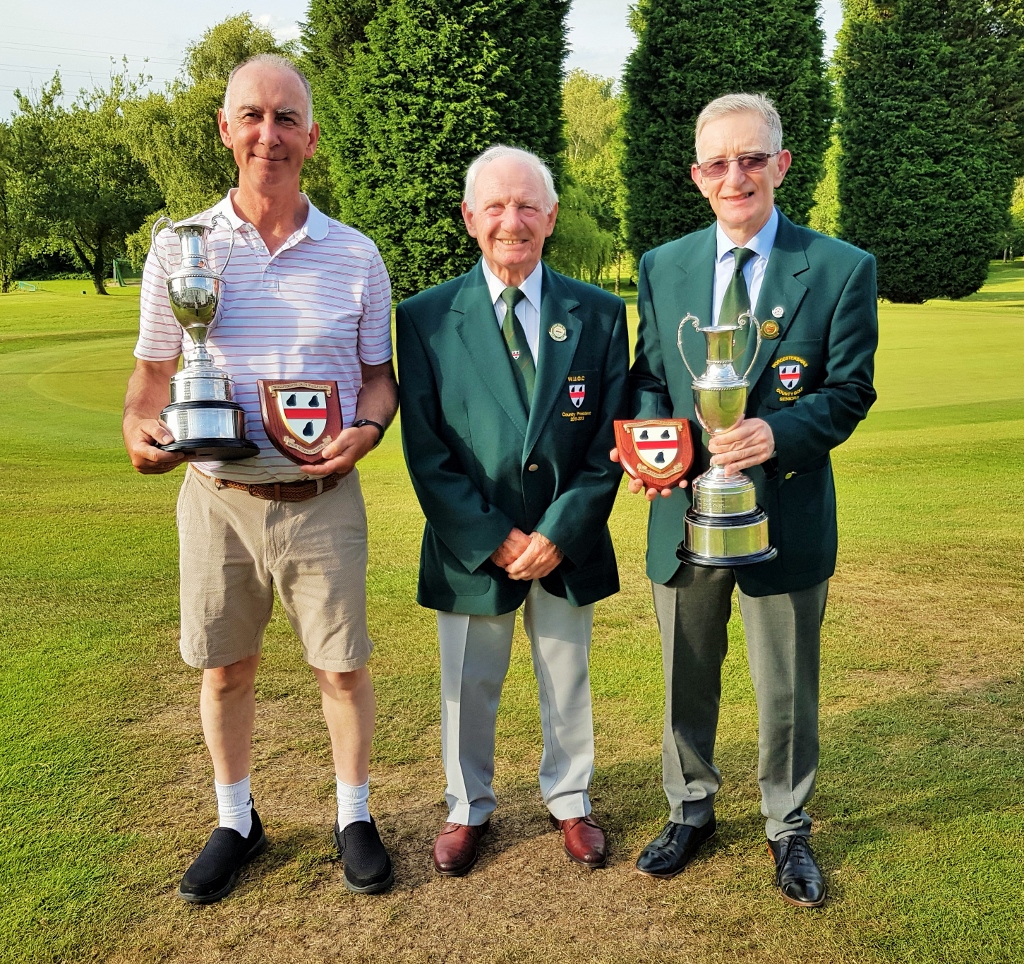 Steve Green (left) and Bill Thompson (right) receive the Wharrad Jugs for Best Gross in the Senior County 4BBB Championships, from Brian Morris, Past County President.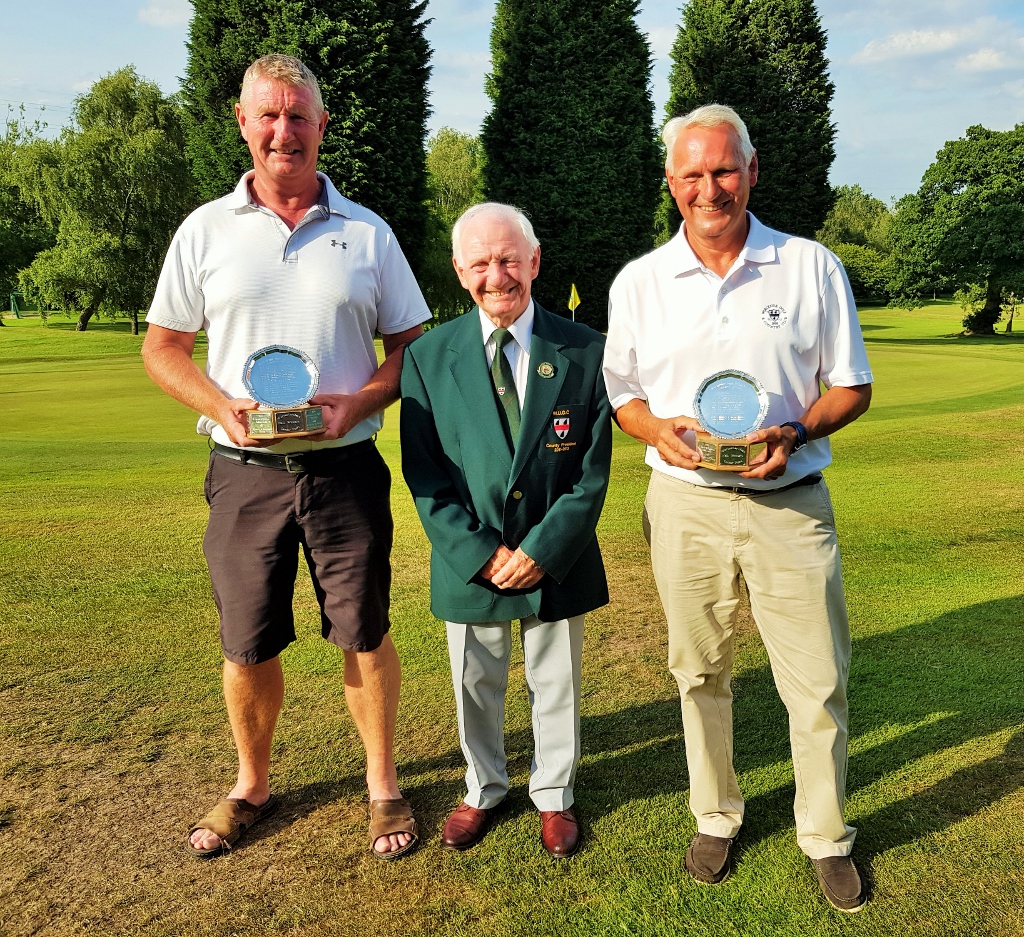 Mark Carpenter (left) and Tony Sanders (right) with the Aberdovey Salvers for Best Nett, presented by Brian Morris.
At the presentation. John Mangan, Hollywood GC Captain, welcomed everyone to the club and hoped they had enjoyed the course. In response, Brian Morris, WUGC Past President, thanked Hollywood GC for hosting the event, and emphasised how well presented the course had been for the players, which he was well qualified to do, as he had played in the 1st group!
Brian also went on the thank the referees (who were John Whitehead, John Brothwood & Tony Edwards) , the starter Dave McDermott, and the administration team (who were Colin Day, Debbie & Stuart Pritchard).
Overall, it was another superb day at Hollywood GC, where the players and officials were all very well looked after by the friendly bar and catering team.