Halesowen GC Team win the Inaugural Peter Adams Trophy held at Droitwich GC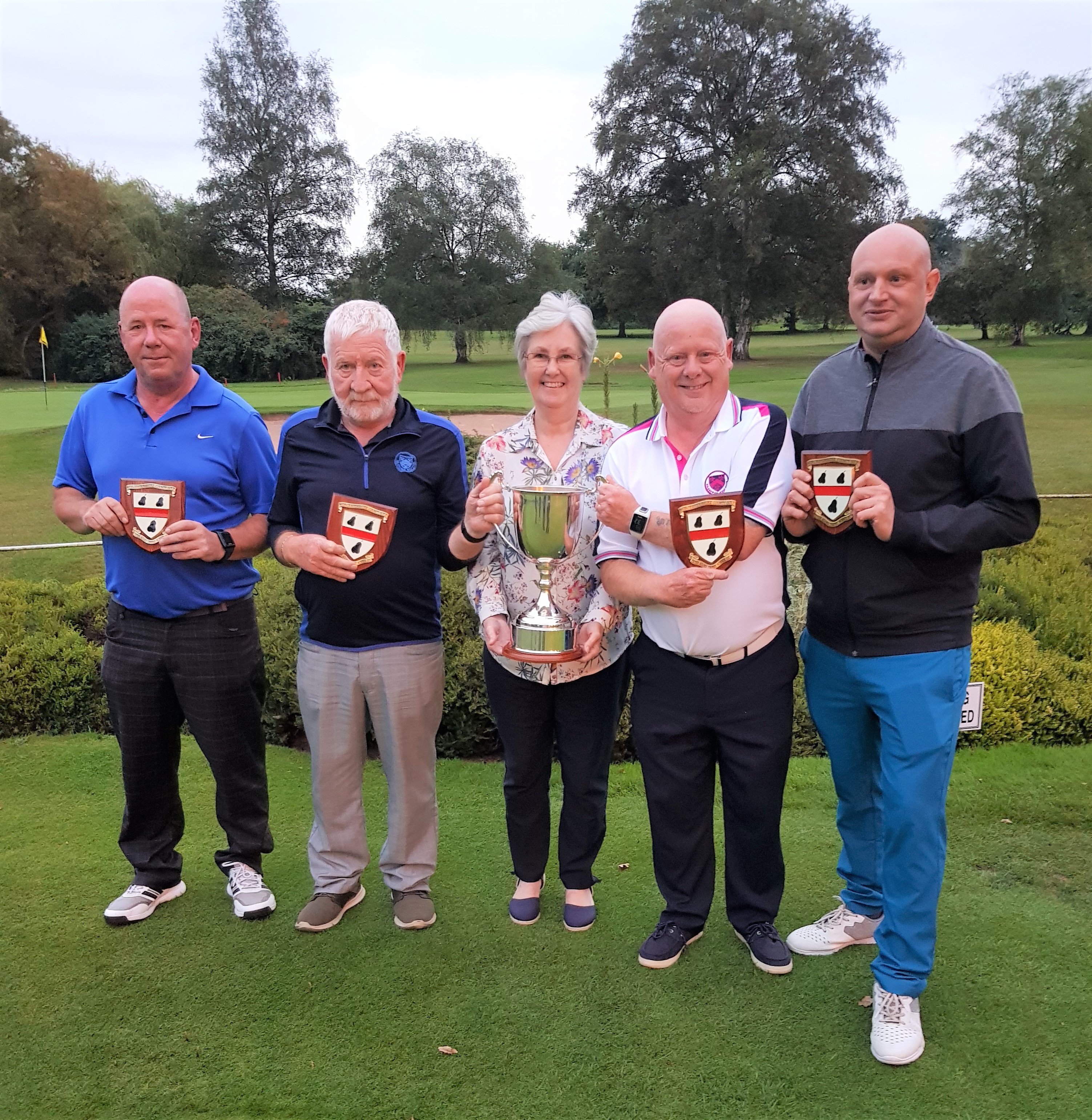 The winning Halesowen Team, receiving the Peter Adams trophy from Alison Adams
(l-r) Mark Stevenson, Jim Henfield, Alan Jones & Mark Halpin
The Inaugural Peter Adams Trophy was held at Droitwich GC on Monday 13th September 2021. Pete was an incredibly popular personality in the golfing world, well known in Worcestershire, across the Midlands, and more widely across the UK, playing in hundreds of local, regional and national events. He was a Past County Captain, Past County Senior Captain & Past County President.
The event attracted the largest ever entry for a County event, with some 188 players forming 47 club teams to contend in a Texas Scramble 18 hole medal. All available tee times were taken, with the field having to be capped to ensure the later teams could finish before it got dark!
Prizes were to be awarded to the best two teams in two division - division 1 being for teams with up to 9 strokes, and division 2 being for teams with 10 or more strokes - with the Peter Adams Trophy being awarded for the overall best score.
It is always difficult to work out what represents a good score in a Texas Scramble event, but it quickly became apparent that it would take something exceptional to win, as many scores ion the low 50s were posted on a regular basis. The teams were finding the excellently prepared and presented Droitwich course to their liking, with the beautifully true greens always rewarding the well struck putt.
For some time, it looked like the Little Lakes Team of Garry Guest, Kevin Phillips, Austin Rodriquez & Sean Williams, were in prime position with an excellent nett 51 (19 under par), but they were finally surpassed by the Halesowen Team of Mark Halpin, Jim Henfield, Alan Jones & Mark Stevenson with a nett 48 - a round featuring 9 gross birdies, and 9 gross pars. Thus Halesowen took the Peter Adams Trophy.
With both the Halesowen and Little Lakes Teams being in Division 2, this meant that the fabulous 52 from the Dudley GC Team of Gerald Crowley, Paul Donnelley, Michael Kendrick & Wayne Rutter failed to win them a prize! However, the 52 from the Fulford Heath Team of Michael Andrews, Jim Gibbs, Ross Temple & Paul Walters saw them take 1st place in Division1. 2nd place in Division1, was won (on countback) by the Hagley GC Team of Lee Ashworth, Steve Carpenter, Ashley Rudge & Carl Stretton, with a nett 53.
There was also a prize for nearest the pin on the 18th, and this was won by Colin Walker from Hollywood GC, whose early close tee shot was to remain unbeaten all day.
On the day, County President, Ian Rone, was delighted to host a lunch for Pete's widow Alison Adams, which was also attended by Chris Gupwell (Director of Worcestershire County Golf Ltd), John Whitehead (Director of Worcestershire County Golf Ltd), Brian Morris (Past County President) & Paul Newman (MGU Senior Captain & Past County Senior Captain).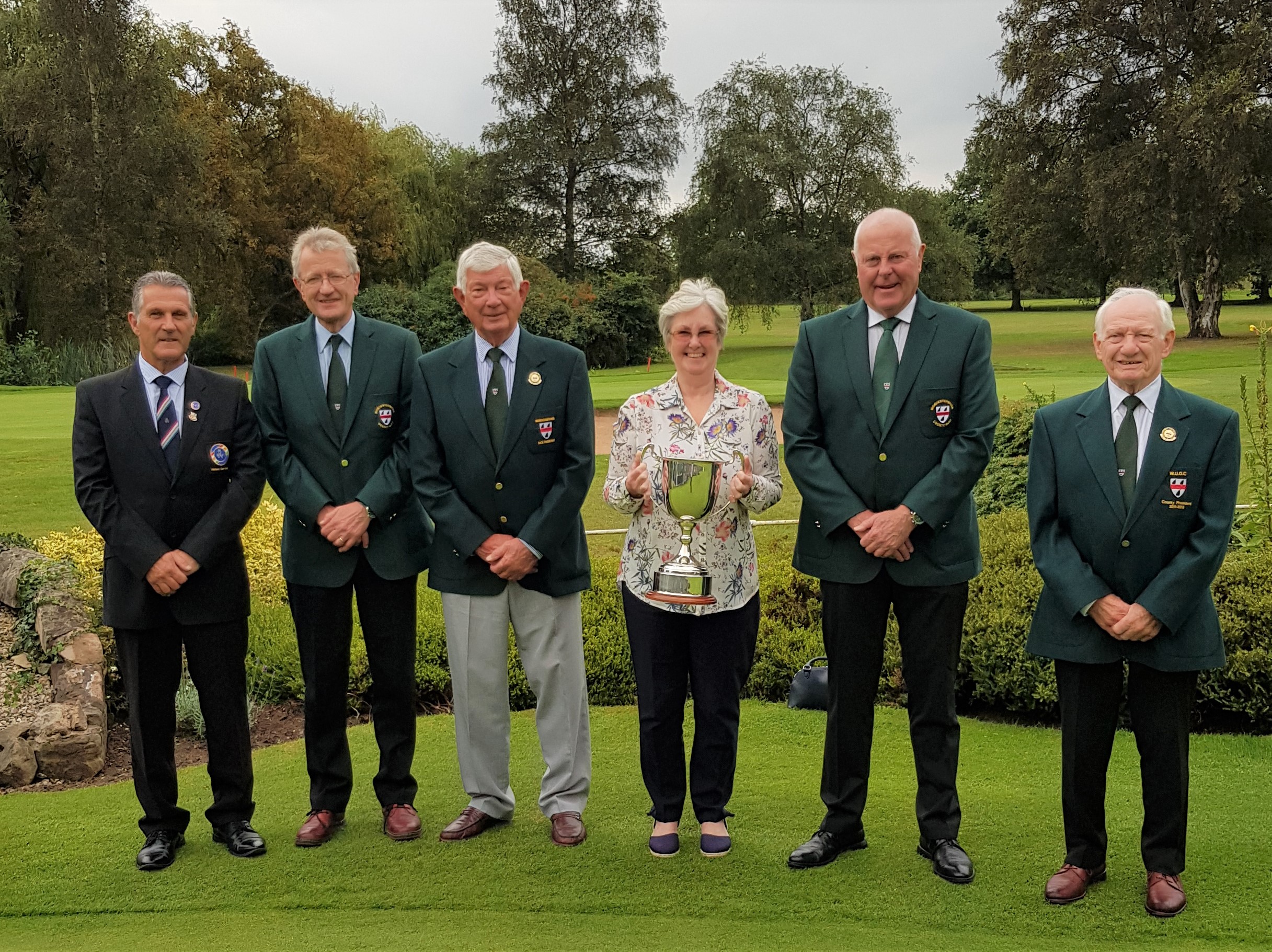 (l-r) Paul Newman, John Whitehead, Chris Gupwell, Alison Adams, Ian Rone & Brian Morris.
The County would like to thank everyone involved in making the day a huge success. The welcome and service from all of the Droitwich GC Team, both in the lead up to the event and on the day itself, was both friendly and professional. Special thanks must go to the Greens Team who produced the course in superb condition; Phil Cundy for looking after all the players in the pro shop; Alison and her team on the bar; Simon & Shirley for their excellent catering for both players and officials; and General Manager Tom Waldron who arrived at 6.30am to help with the administration set up!
Finally, The County would also like to thank the volunteers who made the day possible: referees Tony Edwards, Clive Werrett, John Brothwood & Brenda Binnie; starter Alec Mackie who did an 8 hour stint; and Debbie Pritchard & Brian Morris on the administration desk.