2nd Team win against Derbyshire at Redditch GC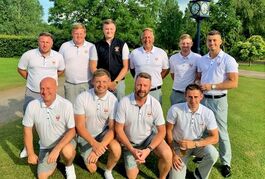 2nd Team at Redditch GC, following a good win against Derbyshire 10 -5.
Pictured (Back row l-r) Steve Bird, Tom Howells, Jack Severn, Lee Richardson, John Cullen & Bobby Campbell. (Front row l-r) Paul Reeves, Russ Ager, Duncan Macpherson (Captain) & Craig Richardson.
Click here for match score sheet.
The third league match of the season had the Worcestershire 2nd team arrive at an excellent and well prepared Redditch Golf Club.
All the established players had the pleasure of greeting Boys U18 captain 'The Quiet Giant' Jack Severn, who was making his mens team debut.

The foursomes got under way with Paul Reeves and Bobby Campbell pairing up for the first time, unfortunately losing by the narrow margin of 2&1. Next out was newbie Jack, paired with Tom Howells again losing - by 3&2. The next three matches went well for the Pears with convincing wins for myself & Steve Bird, Lee Richardson & Russ Ager and finally John Cullen & Craig Richardson. In years past, foursomes had been an enigma for the 2nd team, but thanks to previous input from previous Captains, and guidance, we seem to have managed to turn our fortunes around by winning all 3 foursomes outings this season.

Going into the singles with a 3-2 lead it was important to keep the momentum.

Narrow loses for Campbell, Reeves and Ager, but which could so easily have gone in their favour, were followed by emphatic wins for Severn, who turned his disappointment from earlier into a fine 5&3 win. Bird winning 7&5 ( being 6 under), Cullen 4&2, Craig Richardson 4&3, wins too from Howells, Lee Richardson and myself, saw us run out as 10-5 winners on the day.

My thanks go out to Redditch Golf Club for allowing us to host this fixture, and for the hospitality we received in the clubhouse. Thanks also to County Vice President, Tony Edwards who came to support us during the morning matches, and of course, our very own talisman Dave McDermott.

Special mention must go to Jack Severn on making his debut, and to Craig Richardson, who made himself available by cancelling his plans less than 24 hours before teeing off, and becoming a double winner on the day!

We've got the momentum - let's keep it going into the next match.

Duncan Macpherson
County 2nd Team Captain