County U14 Boys Complete an Unbeaten Season with win against Shropshire & Herefordshire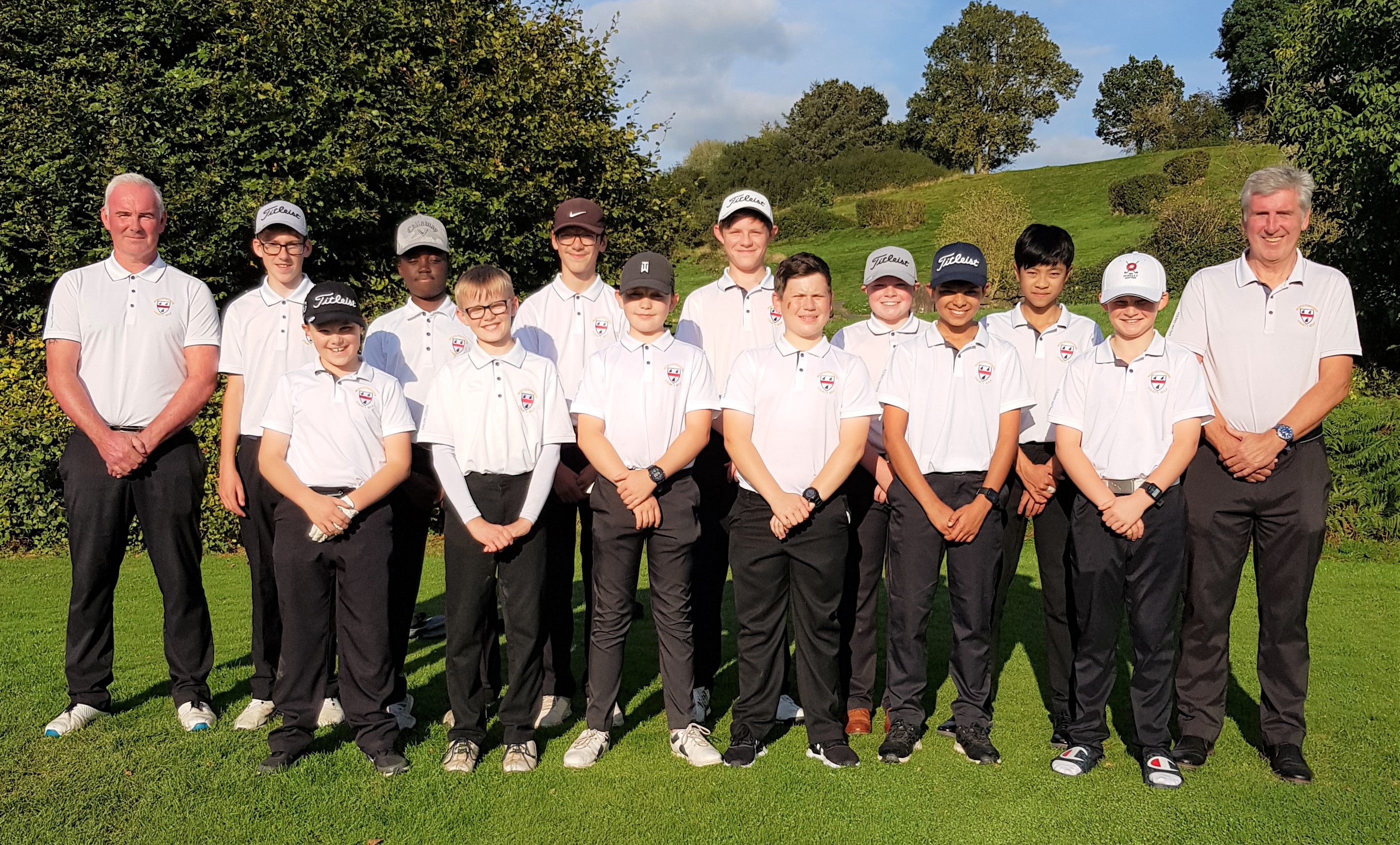 The U14 Boys Team at The Grove Golf & Bowl Club on 10th October 2021.
(l-r) Mark Hewlett Snr (Assistant Manager), Jack Price, Ollie Ansell, Hayden Sarfo, Ollie Badger, Teddy Fee (Captain), Jake Jeff-Johnston, Callum Jones, Tom Gilbert, Harry Evans, Alex Perry, Euan Choi, Beau Langford & Roger Martin (Team Manager)
Click here for match scoresheet.
U14 v S&H at THE GROVE GOLF CLUB LEOMINSTER
In their last match of the season, the U14's arrived at The Grove Golf Club attempting to go through the 2021 season unbeaten.
The 12 man team started positively but like most of our matches this season our opponents showed fighting spirit and made it very difficult for us throughout the day. A fine victory by Alex Perry and Harry Evans in the opening match and a tied match in the second through Teddy Fee and Ollie Badger gave Worcestershire an encouraging start. However, matches 3 and 4 ended in narrow defeats so the final result came down to the last 2 games. In the last match out Ollie Ansell and Jack Price achieved a 4 & 3 victory which mean't the match score was level with one game remaining on the course. Our pairing of Tom Gilbert and Euan Choi were level playing 17 and a fine pressure putt from Tom gave us a 1 up lead playing the par 3 18th. With all 4 players finding the putting surface, 3 of them narrowly missed their birdie attempts but Euan confidently converted his 10 ft birdie putt to secure the win and ensure a victory a match score of 3.5 - 2.5.
Therefore the U14's remained unbeaten in their inter-county matches for the 2021 season. This is a fantastic achievement not just by those who played in this match but by all the players who represented the Worcestershire team throughout the season.
We would like to thank The Grove Golf Club for their excellent hospitality and for providing a great course for this age group at very short notice. We were all very impressed.
Again, thanks to all the parents and officials especially Mark Hewlett and Stuart Pritchard for supporting the boys throughout the season.
U14 Team Manager
Roger Martin