Worcestershire Senior County Championships - Results
Worcestershire County Senior County Championships
The Worcestershire County Senior Championships is open to members of Worcestershire affiliated clubs who are 55 years of age and over. Golfers play for the best gross score Championship title (Neville Carrol Salver), and the Denis Hayes Salver for the best nett score, along with prizes for Gross and Nett scores across age groups.
A field of 39 played at Kings Norton Golf Club, on a course that was looking magnificent and presented challenge and as a true test of golf; players were particularly complimentary about the trueness and pace of the greens. Our thanks to the Committee and members of Kings Norton for their support, and the staff for the looking after us so well.
With the last group to post scores it looked very much like there would be a playoff with two golfers scoring 77 (Neil Mallet of Warley Woods GC and Martin Cartwright of Kings Norton GC). The last group bettered the 77's posted earlier with two players bringing in scores of 75 so, a playoff was still required!
Duncan MacPherson (Worcester GC) and John Mangan (Hollywood GC), set off on a 3 hole play off to decide the Senior County Champion. Both were reluctant to give way and it was still evens after 3 holes and it was into a sudden death playoff. With chances on both sides, it went to a third sudden death hole for Duncan to just get ahead. A great climax to a long but enjoyable day of golf.
Results
Senior County Champion (Neville Carrol Salver) Duncan MacPherson
2nd Best Gross John Mangan
Denis Hayes Salver (Best nett) Neil Mallett
2nd Best Nett Mark Rollins
Best Gross 55-59 Nigel Taylor
Best Nett 55-59 Andrew Lammas
Best Gross 60-69 Martin Cartwright
Best Nett 60-69 Gary Hewitt
Best Gross 70+ Stephen Carpenter
Best Nett 70+ Peter Eccles
Full results can be seen at https://worcestershiregolf.intelligentgolf.co.uk/competition.php?compid=99
Duncan will join other senior county champions at the English Seniors Champion of Champions Tournament at Woodhall Spa, the home of English Golf, later in the year.
The top 8 players will compete for the Worcestershire Senior Matchplay tournament at Redditch Golf Club in August.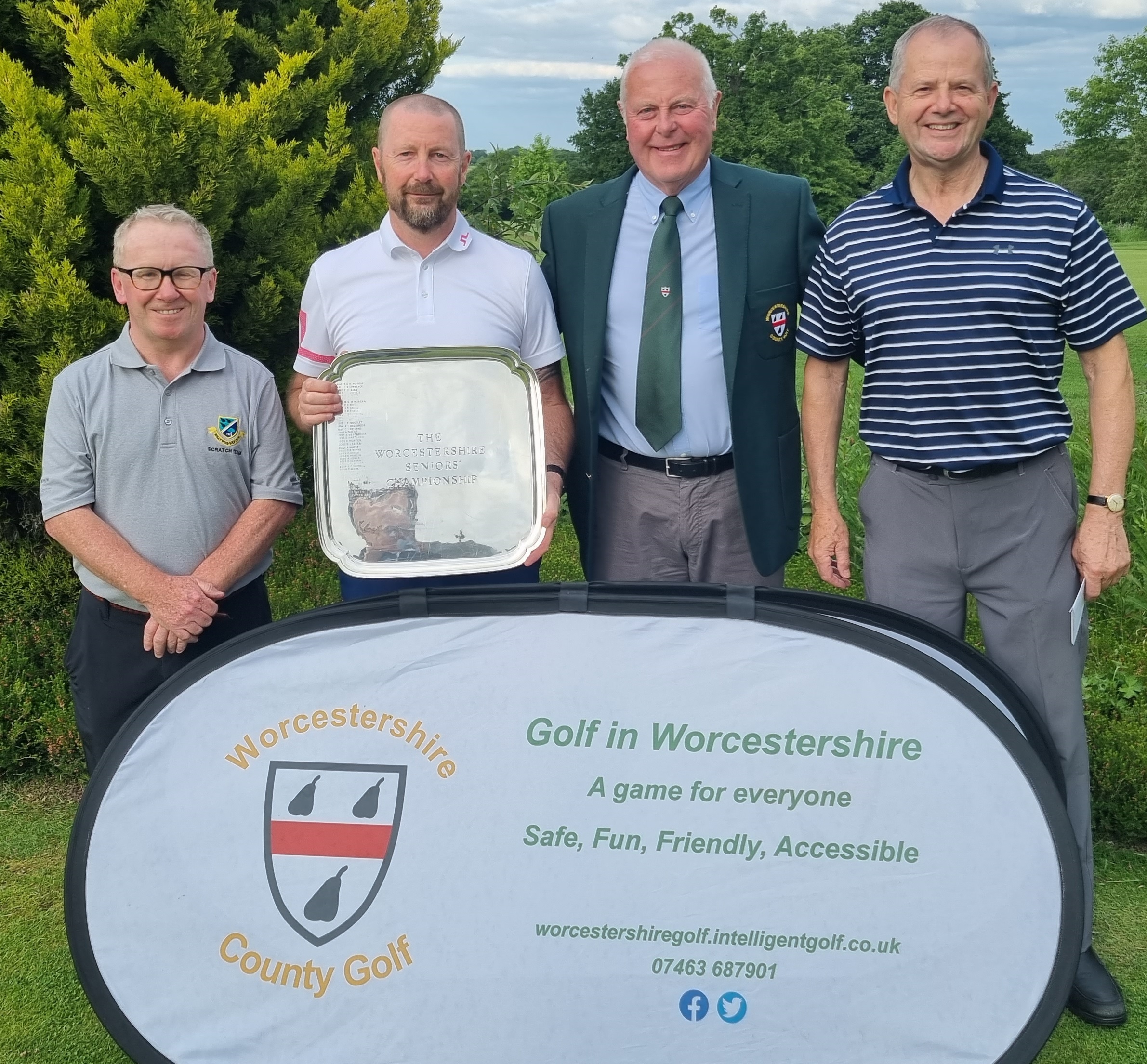 L to R: John Mangan, Duncan MacPherson with the Neville Carrol Salver, Worcestershire's President Ian Rone, Peter Eccles.
Neil Mallett with the Denis Hayes Salver, presented by Ian Rone.
Our thanks to; the referees Tony Edwards, John Whitehead and Clive Werrett; on the registration and scoring desk, Brian Morris; Kings Norton GC President, Stuart Pritchard; and all those who came along to support the players.