2nd Team take Midland League 2019 Title after tense drawn match at Halesowen GC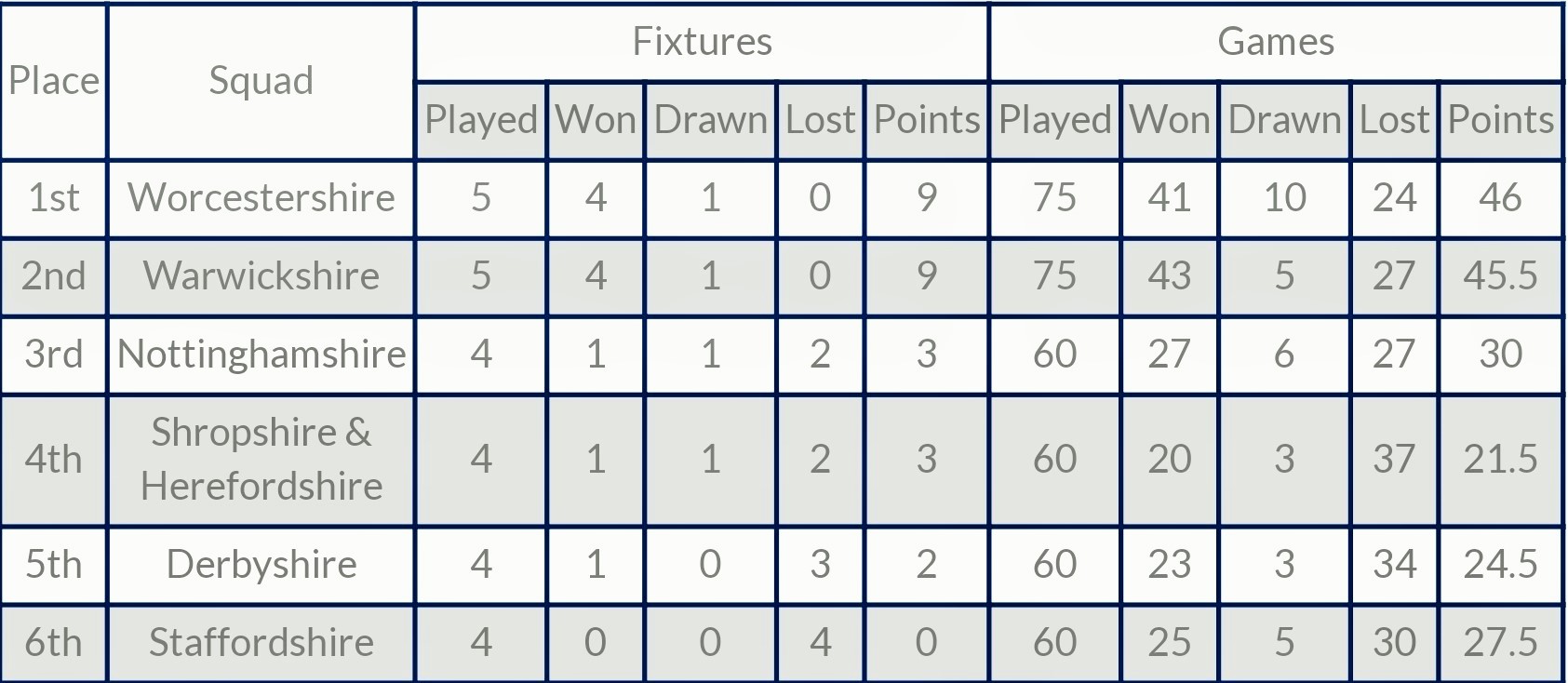 The Midland League 2nd Team Table for 2019 - showing that Worcestershire win by just 1/2 of an individual game point over a full season.
Click here to see today's match score sheet.
The first day of September had the Worcestershire 2nd team assemble at Halesowen Golf Club for the final match of the season against an unbeaten and strong Warwickshire side. The fact that both teams were unbeaten this season meant that whoever won this match were certain of becoming league champions for 2019. One thing in our favour was that we had a lead over Warwickshire by way of individual game points, so in the event of a tied match, Worcestershire would still be considered league winners.

Leading us off in the morning foursomes were Jake Kelly and Nathan Slater who won 2&1, followed by Tom Howells and Steve Bird who also won, but by 5&3. The only other result to go in our favour was a half by Paul Reeves and Bobby Campbell. 2 1/2 points to each team at lunch, with everything still to play for. We now needed 5 points from the afternoon matches.

The singles started well for us with wins for Slater and Kelly both winning by 3&1, an early win for myself by 7&6 and another strong performance by Jack Severn winning 6&4. With 4 points in the bag it was looking good, but the golfing gods never want it to be easy for Worcestershire.

Campbell losing 17 to go 1 down with just the 18th to play, hit his drive way right with trees obscuring his view of the green, managed to pitch it on, leaving a big breaking putt of around 40ft. He then rolled it in for birdie and to half his match to the cheers of every Worcestershire supporter watching. 1/2 point still needed.

With the last pair looking like losing, the mood was very tense. But, with Bird and Reeves both all square playing 18 the result was on a knife edge. Bird hit his drive on the last close to the trees in the left hand rough, managing to bump it close to the front of the green leaving a difficult chip towards the flag. He played it well, but it ran 3ft past leaving himself a nasty left to right very fast downhill putt, whereupon he rolled it in the middle of the cup to the roar of all present. It was fitting for Steve to secure the all important 1/2 point needed for us to become champions as he also became the highest points scorer this year and in doing so winning the Chandler Shield.

The final result ended 7 1/2 points for each team, both Worcestershire and Warwickshire remaining unbeaten through the season.

My thanks go to Halesowen Golf Club for their hospitality and allowing us to play on their excellent and well prepared course. In particular Club Captain Martin Parish who greeted us all on arrival and supported us all day on the course, it was very much appreciated. Thanks also to County President David McGillivray, Chairman & Past President Bill Thompson, Past Presidents Dennis Hayes, Brian Morris and Brian Peplow, Vice-President Mr (Jim) Gray and of course our biggest supporter Vice-President Dave McDermott, this win was for you as much as it was for the players.

At this point I would like to thank all the players who turned out for me this season, 17 in total. To win is a great feeling, but to win as a team is better than all I could have imagined. I am filled with pride in the way you have all represented the county and the way you have all played for each other. It is an honour to wear the 'Three Pears'.
Duncan Macpherson
County 2nd Team Captain